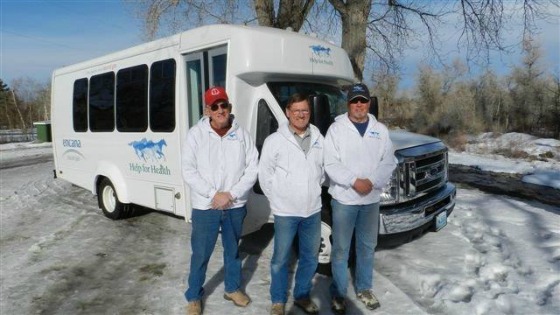 The Help for Health Van provides round trip transportation free of charge for patients receiving radiology treatment in Lander.  The service is provided from four pick-up points in Fremont County, direct to Rocky Mountain Oncology in Lander. Transportation reservations, including changes regarding your reservation must be made by calling the Help for Health answering machine at 307-332-9230.  Messages are checked by the drivers in the morning and evening.
Departure Times
Shoshoni: 9:45am Fire Station Parking Lot
Campbell's Corner: 10:00am
Riverton: 10:15am City Hall Parking Lot
Hudson; 10:30am Svilars Parking Lot
Arrive in Lander at approximately 10:45am at Rocky Mountain Oncology(this schedule may change)
If you need assistance enroute, you must bring someone along to assist you.  If you must return home by a designated time, you may need to consider other arrangements as the van cannot meet individual time schedules.  Every effort is made to expedite treatment time so the van can depart Lander as soon as possible.  Please bring your own pillow and blanket for your personal comfort.